Find out about how to report an unlicensed cab, taxi fares, taxi ranks and more.
Types of cabs
Hackney carriage (taxi) licences 
Hackney carriages, usually referred to as taxis, can be hailed on the street, hired from a taxi rank or pre-booked. Licensed vehicles have a roof sign and a distinctive teal and white licence plate on the rear, and are all wheelchair accessible vehicles. Maximum fares for journeys within Rushmoor are regulated and a meter is used
Hackney carriage drivers must wear or display their identity badge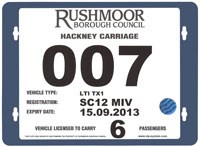 Private hire (minicab) licences 
Private hire vehicles, or minicabs, can only be pre-booked. They cannot be hailed on the street or hired from a taxi rank. They have a distinctive fuchsia and white licence plate on the rear. Fares are not regulated and should be agreed when you book. A meter may be used, if one is available
Private hire drivers must wear or display their identity badge
Individuals or firms that take bookings for private hire vehicles must also have a private hire operator's licence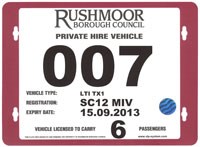 Tips on taking a cab safely
Taxi fares
We set the taxi fares in Rushmoor.
We do not regulate fare charges for private hire vehicles (minicabs).
For information about concessionary travel visit the Hampshire County Council's concessionary travel vouchers web pages.
Wheelchair accessible taxis
Private hire operators are required to accept bookings for or on behalf of any disabled person if they have a suitable vehicle available.
All taxi and private hire vehicle drivers, regardless of whether their vehicle is wheelchair accessible are required to:
Accept the carriage of any disabled person, provide them with reasonable mobility assistance, and carry their mobility aids all without charging any more than they would for a non-disabled passenger
Provide any disabled passenger who requests it with assistance to identify and find the vehicle where pre-booked, at no extra charge
Drivers of designated wheelchair accessible taxis and private hire vehicles (see list) are required:
to carry the passenger while in the wheelchair
not to make any additional charge for doing so
if the passenger chooses to sit in a passenger seat to carry the wheelchair
to take such steps as are necessary to ensure that the passenger is carried in safety and reasonable comfort
to give the passenger such mobility assistance as is reasonably required
Mobility assistance is defined as assistance:
To enable the passenger to get into or out of the vehicle
If the passenger wishes to remain in the wheelchair, to enable the passenger to get into and out of the vehicle while in the wheelchair
To load the passenger's luggage into or out of the vehicle
If the passenger does not wish to remain in the wheelchair, to load the wheelchair into or out of the vehicle
Although each situation will be different, the Department for Transport (DfT) take the view in their guidance, that reasonable mobility assistance will be subject to other applicable law, including health and safety legislation. However, they would always expect drivers to provide assistance such as folding manual wheelchairs and placing them in the luggage compartment, installing the boarding ramp, or securing a wheelchair within the passenger compartment.
Depending on the weight of the wheelchair and the capability of the driver, reasonable mobility assistance could also include pushing a manual wheelchair or light electric wheelchair up a ramp or stowing a light electric wheelchair in the luggage compartment.
Please note that some drivers are exempt from these requirements for medical reasons. Any driver who is exempt must display an exemption certificate issued by the Licensing Authority which shows their photo and driver's badge details.
The requirement not to charge a wheelchair user extra means that, a meter should not be left running whilst the driver performs duties required by the Act, or the passenger enters, leaves or secures their wheelchair within the passenger compartment.
Report an unlicensed taxi or minicab
You can help stop rogue cabs operating in Rushmoor by reporting them to us using our report a problem with a taxi or a taxi driver form.
If you see or suspect any unlicensed taxi activities, let us know about it.
Making a complaint
If you have a complaint about a taxi driver, vehicle or operator, use the report a problem with a taxi or a taxi driver form to get in contact with us.
Taxi ranks
Aldershot
Aldershot railway station
Westgate, Alexandra Road
Victoria Road outside The George public house
Court Road
Station Road (evenings only)
Farnborough
Farnborough main railway station
ASDA car park
Queensmead next to the Iceland store
Fernhill Road outside the parade of shops, near the junction with Sandy Lane
Lynchford Road near the North Camp public house
Victoria Road near the Tilly Shilling public house
Roadworks
Find out about roadworks and diversions on the one.network website.
Taxi licensing policy
Please see our taxi licensing policy and guidance document for more information about how we carry out our taxi licensing functions and responsibilities.
---
Contact us