Join the Rushmoor Community Lottery and support local community groups and charities.
Buy lottery tickets
Tickets are on sale for our weekly Rushmoor Community Lottery draw.
A weekly lottery ticket costs £1, with half of the money going straight to a local good cause that you choose and a further ten pence to a Rushmoor Community Fund.  The draw takes place every Saturday at 8pm.
A percentage of each ticket sold is set aside for the prize fund, with the chance of winning cash prizes from £25 up to £25,000.
Buy your tickets now on the Rushmoor Community Lottery website.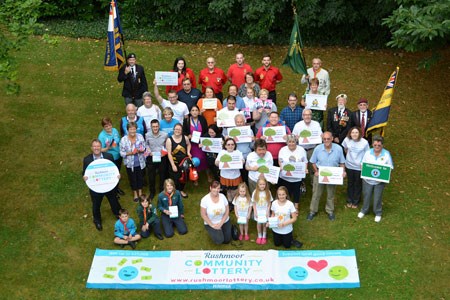 About the lottery
In 2017 we created the Rushmoor Community Lottery to help support local good causes such as voluntary groups, sports clubs, community groups, societies, charities or schools who can sign-up to be a beneficiary.
The Rushmoor Community Lottery has helped to boost funds to support a whole range of local projects. It has been an invaluable source of income for many of our community organisations.
Signing up as a good cause
Signing up is free and only takes a few minutes. 
Once signed up, the Rushmoor Community Lottery will:
Build your good cause page on the website
Provide you with personalised marketing materials to send out to your supporters and the local community
Support you with guides, tips, email and phone assistance
Ensure you receive 50% of all ticket sales from supporters that sign up on your page, with funds transferred into your bank account every month
Sign-up and find out more on the Rushmoor Community Lottery website.
Latest lottery news
Thanks to everyone who has supported the Rushmoor Community Lottery so far. For news and highlights from the last few months visit the Rushmoor Community Lottery news page.
Rushmoor Community Lottery grants
For every ticket sold 10p goes into this fund, as well as 50p from tickets bought in support of the fund. Good causes signed up to the lottery and have sold tickets are eligible to apply for a grant from the Rushmoor Community Lottery.
The latest recipients of Community Fund grants were announced at the fifth anniversary celebration on 6 September 2022.
Find out more information and who received grants previously by visiting our Rushmoor Community Fund page.
---
Contact us
Rushmoor Community Lottery
---