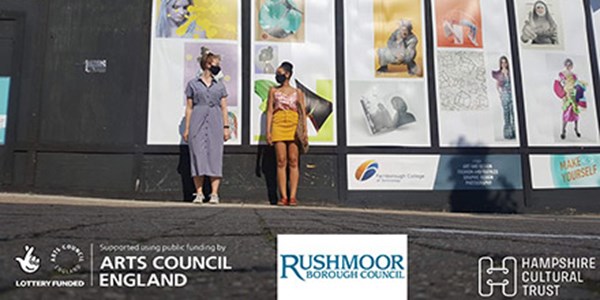 Day and time:
Location:
Cost:
Local artist Susan Merrick is collecting stories, comments and thoughts from people living and working in Aldershot. This ongoing arts project is creating a small archive of our town. In early 2021, images from the project were displayed in Aldershot Town Centre. The images have now returned to the town centre.
Susan Merrick, associate artist at the West End Centre, who is also a local resident, has worked with a group of local women throughout 2021 to reflect on their experience of the lockdowns and to create work to share with their local community. More widely, the group has also been collecting wider stories, thoughts and experiences of lockdown from Aldershot residents and will continue to do this into 2022 with the aim of producing a publication of these experiences as an archive for the town. 
How to get involved in the project
Take part in the short online survey to share your thoughts and experiences of lockdown in Aldershot
Like, share and comment on the Conversations with Aldershot Facebook page
Message the artist with your ideas through Facebook Messenger
The artist would also appreciate your help if you know of any people who may want to share with us in a different way, video, email or phone call
The project is funded by the National Lottery through Arts Council England. We have also provided support, along with the West End Centre and Chapel Arts Studios. 
With thanks to artists Amanda Holiday, Annis Joslin and Louise Jordan for their support and to Candice Camacho, Project Community Facilitator and collaborator.