We are considering the introduction of a Public Space Protection Order in Aldershot town centre.
About Public Space Protection Orders
PSPOs are aimed at making sure our public spaces can be enjoyed by everyone, free from antisocial behaviour. 
They are part of a range of powers to help tackle antisocial behaviour in a local area. They are not about stopping the responsible use of the night-time economy or preventing young people from seeing their friends, but they do provide us with another way to help deal with ongoing issues that can damage our communities.
Our proposed Public Space Protection Order
We are looking at the possibility of introducing a Public Space Protection Order (PSPO) to be able to deal with alcohol-related antisocial behaviour in Aldershot town centre.
Our proposed Aldershot Town Centre Draft PSPO would give the police and authorised council officers powers to confiscate alcohol from a minority of drinkers whose excessive drinking causes problems for others in public spaces. It would also allow us to issue Fixed Penalty Notices for urination and defecation in a public place.  
We have not made a decision about this proposed PSPO at this stage, but have been consulting on the proposals. The consultation closed on Monday 21 March. The results of the consultation will be considered before a recommendation is made to our Cabinet.
How a PSPO helps tackle antisocial behaviour 
A PSPO can be made where we are satisfied that there is behaviour which has a persistent or continuing detrimental effect on the quality of life of those in the local area. 
We can only impose restrictions which are reasonable and justified. We have designed the proposed PSPO to make sure the law-abiding majority can use and enjoy public spaces, without experiencing alcohol related antisocial behaviour.  
These powers are not intended to disrupt peaceful activities and are used explicitly for addressing nuisance or annoyance associated with alcohol drinking in a public place or public urination and defecation.  
The proposed PSPO will allow police and authorised officers to ask individuals to stop drinking and to confiscate their alcoholic drinks, if they consider they are acting antisocially. It is an offence to fail to comply with a request to stop drinking or surrender alcohol, including any opened or sealed containers, in the area covered by the PSPO. 
A PSPO cannot be used to restrict the consumption of alcohol where premises are licensed for the supply of alcohol, as licensing laws already include safeguards against premises becoming associated with nuisance and antisocial behaviour. 
The behaviours that the proposed PSPO would control
Our proposed PSPO would control: 
Drinking alcohol if someone is suspected of acting in an antisocial manner 
Going to the toilet (urinating and defecating) in public 
Area covered by the proposed PSPO
Aldershot town centre, including Municipal Gardens and Aldershot railway station. Please view the map below for more details.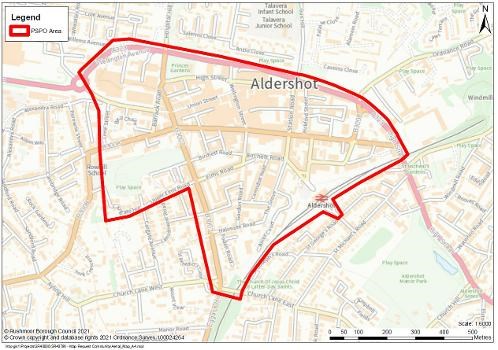 How the proposed PSPO will be enforced
The police or authorised council officers can issue a Fixed Penalty Notice for £100 for failing to comply with an officer's request to stop drinking and hand over the alcohol, or for urinating or defecating in a public place
Payment of the Fixed Penalty Notice discharges liability to conviction for the offence 
Breach of a PSPO is a criminal offence with a maximum fine of £1,000 (level three fine)  on prosecution  
The police will work in partnership with the council to make sure the proposed PSPO is enforced effectively  
Length of the proposed PSPO
We are proposing that the PSPO lasts for three years from the date that it starts. Before the expiry date of that three-year period, we would decide whether to renew it in consultation with residents.