Find out about our commitment to the armed forces and support that is available locally.
About the Armed Forces Community Covenant
The Armed Forces Covenant is a national promise to those who serve, or who have served, in the armed forces and their families, that we will do all we can to make sure they are treated fairly and are not disadvantaged in their day-to-day lives.
Our covenant with the Aldershot Garrison
Aldershot is the home of the British Army. We are proud to have agreed our own covenant, as we have a long history of supporting the armed forces that live and work in our towns, and their families.
We signed our Armed Forces Community Covenant with the Aldershot Garrison in October 2012 as an agreement to work together to honour the national covenant. It is backed by a number of our partners who are equally very supportive of the military.
Defence Employer Recognition Scheme
We have an Defence Employer Recognition Scheme silver award that recognises our support of the armed forces and their families. 
Please visit the Defence Employer Recognition Scheme website for more information.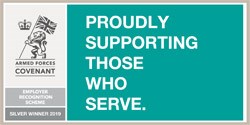 Armed Forces Covenant Fund
The national Armed Forces Covenant Fund spends £10 million each year to support the Armed Forces Covenant by offering grants for projects that contribute towards integration, greater wellbeing, and social support for serving military personnel, their families, veterans and the communities where they live.
Please visit the Applying to the Covenant Fund website to find out more and apply for money from the fund.
Armed forces covenant for businesses
Businesses can also make a voluntary pledge to demonstrate their support for the armed forces community. Any business or charitable organisation of any size, and from any industry, where it is an employer of a member of the armed forces community or not, can adopt a business covenant.
Please see the Armed forces covenant for businesses page on GOV.UK for more information.
Support available locally
Being a member of the military community and returning to civilian life or moving into a new area can be challenging. Below are links and information to a range of organisations and charities that provide support.
Registering to vote
If you are in the armed forces, or the spouse of someone who is, visit the Register to vote (armed forces) page on the GOV.UK website to:
Apply to register to vote online as an ordinary voter  
Apply to register to vote online as a service voter. This will give you a registration for up to five years. We have a duty to remind you to re-register before your five years comes to an end
You can find out more on our Registering to vote pages.
Education
Hampshire County Council is responsible for schools in Rushmoor. You can get information about all of the schools in Aldershot and Farnborough on the Hampshire County Council website.
The county council's website also has lots of useful information about school admissions.
Housing
Our How we allocate housing in Rushmoor page sets out that we will treat military personnel and their immediate family fairly and we will not disadvantage them because of their status.
Military personnel have a high priority for shared ownership and a number have bought properties on the Wellesley and Sun Park developments.
However, we do not give military personnel higher priority within our housing allocation scheme because of their status, unless their personal circumstances merit it. This could be, for example if they have health or welfare issues.
If you are the spouse or civil partner of a member of the armed forces and are no longer entitled to live in Ministry of Defence housing because that person has died, we will make you a high priority for housing. Your spouse or civil partner will need to have been in the regular forces and his or her death wholly or partly attributable (wholly in part) to that service
Leisure
Aldershot and Farnborough have a wealth of parks, open spaces and leisure, entertainment and community facilities and there are some discounts available to the armed forces.
Please visit our Community, parks and leisure pages for more information.
There is also the official Ministry of Defence discount service for all members of the armed forces, offering discounts online and on the high street.
Health and wellbeing
To find out where your nearest doctor's surgery, hospital, dentist and pharmacy is, you can use our In my area link feature.
The NHS provides health information and support locally, including for everyone in the armed forces community, including serving personnel, reservists, families and veterans.
Please visit the Healthcare for the armed forces community pages on the NHS website for more information.
Hampshire County Council also has its Connect to Support Hampshire website that includes a directory of services for adults with care and support needs.
Mental health
If you have a concern about your mental health or of a family member who is a serving regular, reservist or veteran, please speak to your NHS GP.
The NHS offers support including its Op COURAGE - veterans' mental health and wellbeing service.
You can also contact one of the following organisations:
Togetherall - Provides safe, anonymous support to anyone struggling with a range of common mental health issues, or who feels burdened by everyday worries and concerns. It is free for all serving personnel, veterans, and their families
Combat Stress - The veterans' mental health charity - Offers a 24-hour free phone helpline if you have concerns about your mental health. The number to call is 0800 138 1619. The charity provides emotional support, a listening ear and signposting service
Help for Heroes - Hidden Wounds - Provides free and confidential support to ex-service personnel, their families and the families of those still serving, who are living with anxiety, depression, stress, anger or who want to change their drinking habits
Other support organisations
Forces in Mind Trust
Aims to support ex-service personnel and their families to lead successful civilian lives.
Please visit the Forces in Mind Trust website for more information.
The Ripple Pond
A self-help support network for the adult family members of physically, or emotionally-injured service personnel, and veterans.
Please visit the  The Ripple Pond website for more information.
The Royal British Legion
A UK charity providing lifelong support for the Royal Navy, British Army, Royal Air Force, Reservists, veterans, and their families. 
Please visit the The Royal British Legion website for more information.
---
Contact us