We run a weekly car boot sale in Farnborough town centre.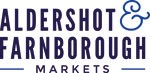 Christmas car boot dates
We are holding the Farnborough car boot sale every Sunday in the run-up to Christmas. However, we will be taking a break on New Year's Eve, so there will be no car boot sale on 31 December. Our first car boot sale of the new year will be Sunday 7 January.
About the Farnborough car boot sale
The Farnborough car boot sale is held on Sundays in the Pinehurst multi-storey car park between 7.30am and 1.30pm. The car boot is hardstanding and undercover and runs 51 weeks per year, rain or shine.
Entry for early buyers
Entry for early buyers is £5 a person (card payment only) between 7.30am and 9.30am.
Normal entry
After 9.30am, entry is 50p. There is no charge for children under sixteen.
Please pay by card where possible, or try to have the correct money as change cannot be given. Please see our car boot sale rules and regulations for full terms and conditions.
Dogs at the car boot sales
Unfortunately, because of the rising number of dogs being brought to the car boot sales, we have sadly had to make the decision to stop allowing access for dogs. This applies to both buyers and sellers and is in the interests of the health and wellbeing of the dogs and our visitors. This does not apply to assistance dogs. 
How to sell at our car boot sales
You can book a pitch from £8 at the car boot sale. You must arrive before 8.30am, as no cars will be admitted after this time.
To book a pitch please email markets@rushmoor.gov.uk with the make, model and registration number of your vehicle and include your phone number so we can contact you for payment. Or you can phone us on 01252 398007 between 9am and 4pm (Mon-Thu) and 9am to 3.30pm (Fri). We cannot guarantee that you will be under cover.
We take payment at the time of booking and will only refund it if we cancel the car boot sale.
If you choose not to pre-book, then you will be granted entry only after all pre-booked cars have arrived. Card payments are preferred. 
No trading between sellers is allowed before 8.30am in fairness to the early bird buyers. Any sellers seen to be trading before 8.30am will be suspended from future car boot sales.
Please see our car boot sales rules and regulations web page before you book your pitch.
Find us
Our car boot sales page on Facebook
You can follow us on the Aldershot and Farnborough markets Facebook page.
---
Contact us
Aldershot and Farnborough markets
---