A 57-hectare area of natural green open space in Farnborough.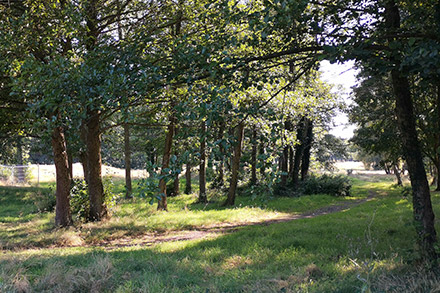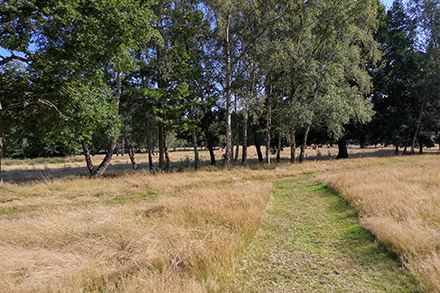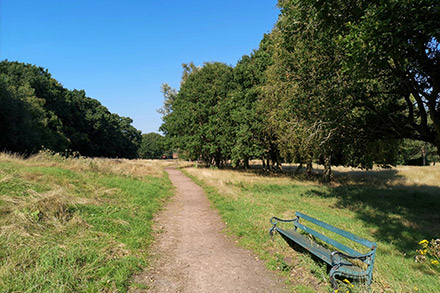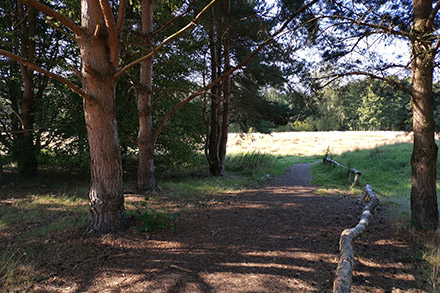 New visitor centre, children's playground and café
Our new visitor centre and playground will be ready in the next few weeks. We are holding a Christmas craft fayre at the visitor centre on Saturday 10 December.
The new visitor centre will use much of the existing building at Southwood, to minimise the carbon impact. The playground will include a tree house and zip wire, as well as a roundabout accessible for children of all abilities, and swings. The equipment will mostly made from wood, in keeping with its natural surroundings.
We have chosen a café operator and are working on the fit-out plans.
About Southwood Country Park
The first phase of the country park (western side) opened in September 2019.
Covering more than 30 hectares, it offers a network of formal and informal paths, with a 2.4 kilometre circular walking route, starting from the 31-space Kennels Lane car park. There is dog-proof fencing along the boundaries of Ively Road.
The second phase, which includes the former golf club car park at Ively Road, opened in December 2019 and offers access to a further 27 hectares of natural land opened up on the eastern side of the country park.
The country park is what is known as Suitable Alternative Natural Greenspace (SANG) and is the former Southwood Golf Course.
As Rushmoor sits within five kilometres of the Thames Basin Heaths special protection area, which protects ground-nesting birds,  housing developers must, by law, provide, or contribute towards, alternative green space for their residents to use before the council can grant them planning permission.
Being a SANG means the land is permanently protected as green public open space, so it could never be built on. It also means that we would use developers' contributions to pay for its creation and upkeep.
Country park wildlife and ecology
Before the first phase opened, we asked the Hampshire and Isle of Wight Wildlife Trust to carry out wildlife surveys across the site.
The trust discovered large populations of slow worms and common lizards, smooth and palmate newts.
Five species of bats forage along the woodland edge and the waterways and wetland birds have started visiting the site.
The site is providing a very good habitat for invertebrates, with nine nationally-scarce, and two nationally-rare species, and the Small Heath butterfly, which is threatened in Britain.
We are also working with the Environment Agency on a study that will look at naturalising the Cove and Marrow Brooks which will improve water quality and provide greater flood protection, as well as improving the area for both wildlife and people.
Esso pipeline work at Southwood Country Park
The government granted a Development Consent Order in October 2020 for the Southampton to London Pipeline Project ('Esso pipeline') that will replace 90km of aviation fuel pipeline. Part of the new pipeline crosses the western and eastern sections of the park. Work affecting the park is expected to take place between May and October 2022. We are working with Esso to make sure they take account of existing habitats at Southwood Country Park and replace vegetation lost during the pipeline installation in line with our ecological management objectives for the park.
Map of west side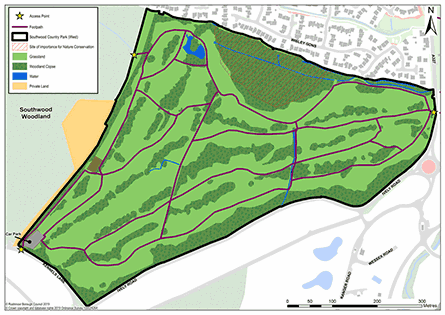 Location of west car park
Southern end of Kennels Lane
Off Ively Road
Farnborough
Map of east side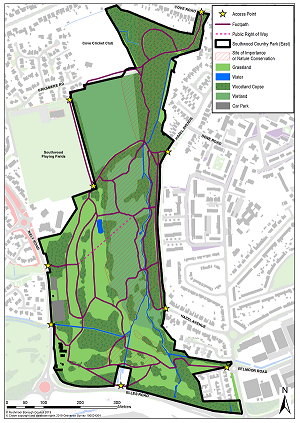 Location of east car park
Ively Road
Farnborough
---
Contact us