Find out about volunteering opportunities, and how you can get involved.
Volunteering can make a real difference to the lives of local people. You can also make new friends, be part of your community, learn new skills and hobbies and put your existing skills to good use.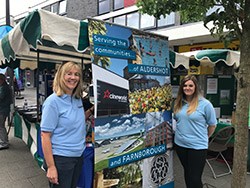 Rushmoor Voluntary Services
Rushmoor Voluntary Services is a charity which provides support, advice and information to other charities, voluntary organisations and community groups.
It manages the Rushmoor Volunteer Centre, which recruits and places new volunteers into community projects.
Find out more about by visiting the Rushmoor Voluntary Services website or phone them on 01252 398450.
Volunteering opportunities
Volunteering North Hampshire
The Volunteering North Hampshire website advertises all current volunteering opportunities.
For most volunteering opportunities, you need to be 16 or older. However, the Duke of Edinburgh award scheme offers a few opportunities for young people aged 14 plus.
Get involved and volunteer at your local sports club
Join In is a registered charity that helps sports clubs attract more supporters and volunteers from local communities by matching people to fun, interesting and rewarding volunteering opportunities at clubs in their area.
For more information please visit the Join In website.
---
Contact us