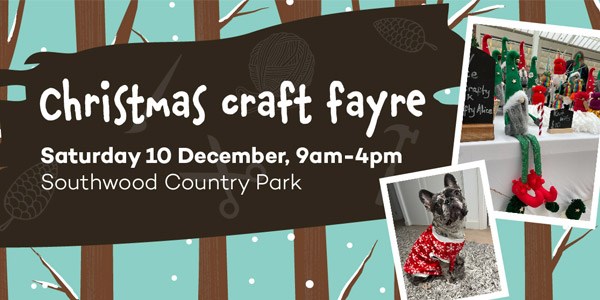 Start date and time: Saturday 10 December 9:00 AM
End date and time: Saturday 10 December 4:00 PM
Location: Southwood Country Park
Cost: Free to enter
Join us at the newly refurbished visitor centre at Southwood Country Park, which promises a Christmas feast of bespoke crafted gifts.
The fayre will feature stalls selling knitted toys and clothes, hand-painted statues and animals, household and garden products, candles, face creams, bathroom gifts, home sewn/patchworked homeware, jewellery and ornaments, artwork and handmade seasonal home decor.
Alongside the craft fayre, the new playground will also be open and ready for enthusiastic young visitors to try out! The new area includes a tree house and zip wire as well as swings and a roundabout, accessible for children of all abilities.
Refreshments will also be available.
Location