On 11 and 12 July, we (Rushmoor, North Tyneside and Basingstoke and Deane and Hart councils) ran a kick-off workshop to begin the 12-week alpha project. 
We were joined by Zaizi Ltd who won the bid to run the project alpha and this kick-off gave a chance for the councils to meet in person. 
With the grounding of our previous discovery phase, we were able to establish the scope of the project and align with other councils around our needs for this project to enter the next phase.
Over those two days, we covered several areas including the problem space, stakeholder mapping and the next steps in the project.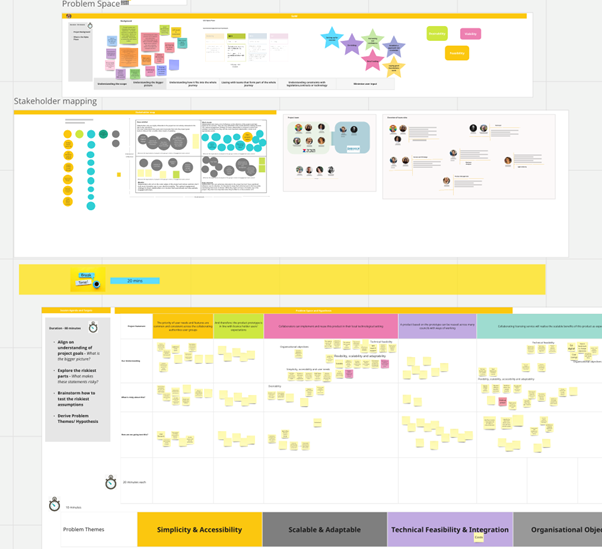 Dissecting the problem space unearthed several problem themes: 
Simplicity and accessibility
Scalable and adaptable
Technical feasibility and integration
Organisational objectives
Desirable and useful
At the end of the two days, there were clear similarities within the council network for this project. 
All councils agreed that:
There is a general risk of people not wanting to use the service and not having support from the council as they have now
Improving the service will save admin time which could be spent on enforcement or other key admin tasks, which currently are not always met due to licence holder needs
All councils have the same user groups: licence holders and licensing teams
In the 3 weeks since the kick-off workshop, the councils have held intensive workshops around user research and service processes.
We met with Zaizi for three 2-hour workshops, each with a theme. In user workshop 1, we defined the user. We defined each group, wrote descriptions and agreed on the prioritisation, breaking down the user groups and licensing types further once we had clarity.
Councils then defined the research objectives in user workshop 2. The council agreed on question subjects they want to ask licence holders to better understand different aspects of the current renewal process. 
Lastly, in user workshop 3 we defined recruitment. Councils explained the highest focus groups and what they must be able to have the experience to enrich the findings for the project. Other aspects were included such as how councils currently have face-to-face communication, making contact and how we communicate with licence holders.
We are now in the process of service mapping sessions with fellow councils to understand their 
Manual tasks, 
Applications and renewals,
Internal licence management programs and systems.
You can read more about the discovery phase or about the Local Digital Fund and its goals for this project. 
We will update this page soon with new developments.
---
Contact us