Celebrate Aldershot's rich history, going back 160 years, through six heritage trails.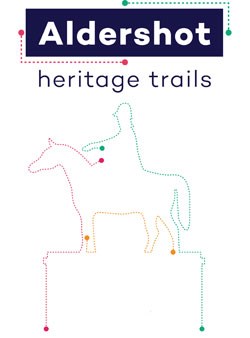 The heritage trails tell the story of Aldershot from being a small village back in 1850, and how it became the home of the British army, to its current status today. The six trails tell stories of people, places, events and buildings throughout the town.
At the beginning of each trail there is a tall totem. The trails are different lengths and you can learn about the history along the way by reading signage, using our digital app, through a physical booklet or using our website.
The six trails are:
Marlborough trail
Stanhope trail
Wellington trail
Redan trail
Town trail
Village trail
Using the heritage trails app
You can use the app as you walk along the trails. As you arrive at a point of interest, audio stories, images and facts will pop up.
Along the town trail you can see historic views of Aldershot, through augmented reality, and take a souvenir selfie against an historic backdrop.
Simply download app from the App Store or Google Play. 
You can also follow the trail on the Aldershot Heritage Trails website.
A booklet with maps of the trails and a list of the points of interest is also available from Princes Hall, Council Offices, Ski Centre, Aldershot Library, and the Aldershot Military Museum.
---
This project has been developed by Rushmoor Borough Council, Grainger Plc, the Aldershot Garrison and the Friends of Aldershot Military Museum.
---
Contact us