Record numbers of visitors enjoy Aldershot Lido's summer season.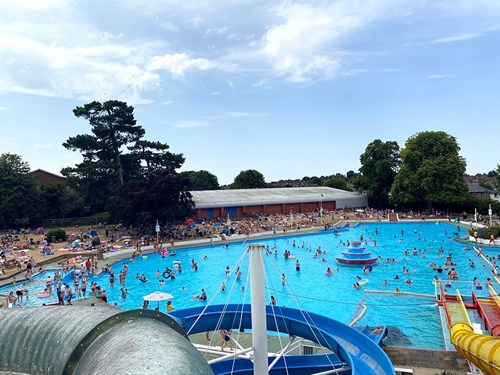 It has been a record-breaking year for Aldershot Lido, with 72,765 visitors – the highest on record - enjoying the swimming pool, flumes and lane swimming sessions.
That is a whopping 9,538 more visitors than the previous highest year in 2018, when 63,277 people visited.
This summer's long spell of hot, dry weather undoubtedly contributed to the high number of visitors, as many residents visited the Lido to cool down from the high temperatures.
Councillor Maurice Sheehan, Cabinet Member for Operational Services at Rushmoor Borough Council, said: "What an amazing summer it has been for our Lido, and how lovely it has been to see this fabulous local facility used and enjoyed by residents. We hope some precious summer memories have been made for families, and now our planning begins again for next year."
Aldershot Lido is one of the largest outdoor pools in the country and is owned by Rushmoor Borough Council and operated by Places Leisure.
Paul Kelly, General Manager of Aldershot Lido, said: "We're delighted that so many people have enjoyed the Lido this summer, with the weather not disappointing us. It's been a pleasure to see so many customers travel far and wide to enjoy the lido, and we hope everyone was able to enjoy a day here."

Linda Robins, Chair of Friends of Aldershot Lido, commented: "This has been a record-breaking summer for early morning lane swims too. With five sessions each week, we have enjoyed a good turnout all season. We have a dedicated group of regulars and attracted swimmers new to outdoor and early morning swimming. Thanks to the Aldershot Lido, we have had a wonderful summer."
Penny Crowther, also from Friends of Aldershot Lido, added: "It's been wonderful to see so many families enjoying the Lido. It's such a lovely place for a relaxing day out with the kids. And at a very affordable price compared with many popular family attractions."
---
Contact us