If you have a disability that makes it difficult for you to get to and from your car, you may qualify for a disabled parking bay outside your house.
We have criteria that you must meet before we will provide a disabled parking bay.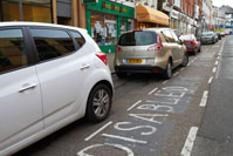 You must have a valid blue badge,
The vehicle must be registered to, and normally kept at, your address. You, a member of your family who lives with you or a carer who lives with you, must use it regularly to transport you.
Your home must not already have off-street parking or a garage and you must be intending to stay at the address.
We normally provide the disabled parking bay within 12 weeks of confirming approval of your application.  We have to follow a statutory legal process and in some cases it could take up to 12 months for the bay to be installed.
It is important to remember that if a parking bay is provided, any blue badge holder can use it.
How to apply for a parking bay
You can apply online: 
---
Contact us