Find out about access protection markings and how to apply for one.
Residents regularly contact us because cars park in front of their dropped kerbs, causing obstruction and annoyance.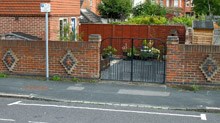 We have agreement from Hampshire County Council to provide white markings in front of properly constructed dropped kerbs.
You will find details about how to apply for a dropped kerb on Hampshire County Council's website.
These lines have no statutory authority and only highlight the presence of the access.
The marking should last up to two years.
If you still need the line after this time and it needs refreshing, you will have to submit a new application and fee.
Shared drives
If you have a shared access with a neighbour, the access protection line has to extend across the entire width of the dropped kerb.
You must confirm that you have obtained your neighbour's approval.
Cost
Single access drive: £175 (including VAT)
Double access drive: £215 (including VAT)
How to apply
Please apply online:
---
Contact us