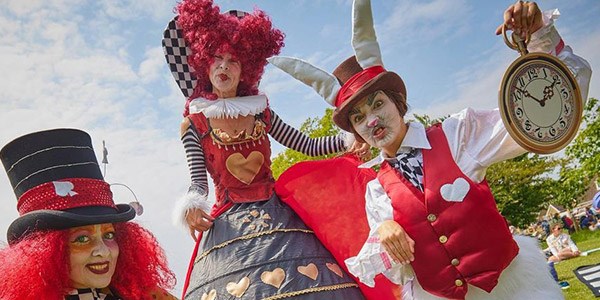 Start date and time: Sunday 21 August 10:00 AM
End date and time: Sunday 21 August 3:00 PM
Location: Princes Gardens, Aldershot
Cost: Free
Join us for a fantastic interactive combination of games, performance and walkabout characters, that's just perfect for families. 
Rhubarb Theatre will create a wonderland experience, as you shrink into the gardens of the Queen of Hearts to find yourselves amongst her large lawn games.   
Once there you might get knotted up in the Alice-themed twister, go crackers with the croquet, or become champions of the chequers board.   
But watch out for her court jokers, they visit bringing mayhem and madness as the White Rabbit, Mad Hatter and even the Queen herself tumble into play.
There's no need to book, just turn up on the day.