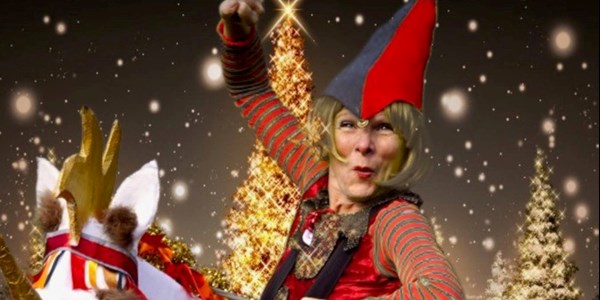 Day and time: Weekends in December
Location: Union Street, Aldershot
Cost: Free
Join us each weekend for sparkling street theatre, free crafty fun, festive brass bands and musicians on Union and Wellington Street.
What's On
Saturday 3 December, 10am to 2.30pm
Think you've heard the history of Hampshire? We don't think you've heard it like this before! This new festive family tour of the town combines game playing, music, history and festive humour. Tours start at 11am and 1pm.
Trad's Army Dixieland Band will be providing festive tunes. 
Our brilliant monthly Eco Explorers Club will be festive themed too! We'll be learning about robins, creating clay Christmas tree decorations and decorating sharing stones for other visitors to discover.
Saturday 10 December, 10.30am to 2.30pm
Take part in a virtuoso strolling musical performance from a giant old-fashioned pram decked in seasonal holly and ivy. The Dickensian Ding Dong toasts in the bleak mid-winter with roaring renditions of your favourite old chestnuts. You can even take part!
Then join Junk Jodie and create some fantastic recycled toys and presents for your friends, just in time for Christmas.
Basingstoke Silver and Band and Saxophony will be providing festive tunes. 
Saturday 17 December, 10.30am to 2.30pm
Father Christmas' elves have escaped from the North Pole on their magical unicorns. They are heading to Aldershot town centre - don't miss their crazy escapades!
Then, join John from The Artroom to create a magical Christmas lantern for the evening's Carols by Lantern Light concert in Princes Gardens.
Catus Brass and Cove Brass Band will be providing festive tunes. 
Location
---
Contact us